JUBA – Gen Salva Kiir on Wednesday convened a meeting in Bilpham involving his loyal commanders of the SPLA and declared that Sudan People Liberation Army commonly known as the SPLA will cease to exist as he "tries to modernise the army to an international standard". General Kiir in a defiant presentation to members and directors of SPLA in the present of his defence chief, Gen Kuol Manyang among others declared that the SPLA doesnt represent South Sudan as an independent country and therefore should be changed.
"We have come to the time that we have to reorganise and professionalise the army. this call has been here for a long time and nothing has been done. we have to pass resolutions that are on table today that the army name will have to be changed to respect the will and the desire of South Sudanese. There have been proposals from some commanders that the name should be changed to South Sudan Army (SSA) and others suggesting that it has to be South Sudan People Defense Forces or SSPDF. I think the SSPDF sound better because we are representing the will of the people" – Salva Kiir
The commanders then unanimously endorsed the name change in the meeting to SSPDF. but the changes made an outcry both on streets and online with some civilians feeling that the name has some historical significance.
"This is outrageous. you cant change a historical armed forces name like changing clothes. President Kiir should have thought about this thoroughly. That means we have betrayed our founding father Dr John Garang who coined the name." – Mou Thuch, a resident in Juba said.
other die hard Gen Salva Kiir supporters also made their feeling known, going as far as mourning the death of SPLA. Deng Bol, a red army chairman in Juba posted this on his Facebook page: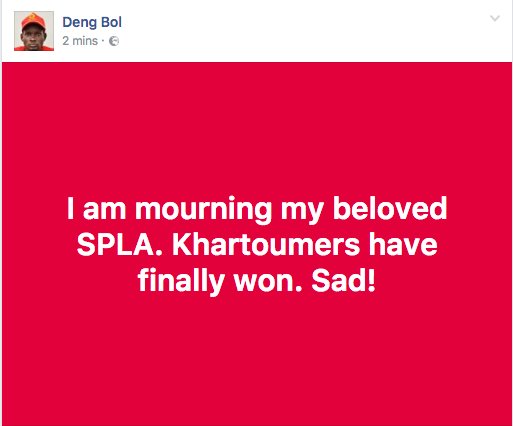 Another Facebook activist going by the name Mun Lul Lual had this to say:
"We are now an extended province of Uganda. UPDF is a name given to Ugandan People Defence Forces. now here we have SSPDF as a replacement for SPLA, isn't this about copycatting Uganda and Museveni because he is indirectly running our contry? pathetic"- Mun Lul
THE UPPER NILE TIMES